Earlier this year, we made two exciting improvements to our Home Equity Access offering:  we now are able to help homeowners access up to $500,000 of their home equity in exchange for a share in the home's future value. In the hot real estate market, we also wanted to offer homeowners peace of mind that their Noah buyout amounts would remain fair.  So we've capped the buyout amount at an effective 18% APR. 
The 18% effective APR is not an interest rate - it is simply the maximum that the payoff amount to Noah would increase in any given year. Beyond that amount, even in an environment of rapid home appreciation, 100% of the home equity gains would go to the homeowner.  In reality, expect the long term cost of Noah's Home Equity Access to be much lower.
Since launch, the capped feature of Noah's Home Equity Access has become very popular.  We're proud to have helped hundreds of homeowners access much-needed funds for paying off debt, renovating their home or simply taking care of unexpected life events. 
Since we often receive questions about how the "cap" works, Let's walk through an example.  For illustrative purposes only, let's say:
Home initially appraises for $1,000,000 
Owner accesses $100,000 of their home equity via Noah
The Initial Noah Share is 13.150%
As the value of the home changes, the Noah Share changes to account for the appreciation or depreciation as well. Homeowners have up to 10 years to buy out Noah. That said, they can choose to exit earlier with no early exit fees or prepayment penalties. At the time the homeowner chooses to exit, we simply utilize the home sales price or an appraisal to determine the payoff amount.
This 18% effective APR Cap means that the maximum payment by the homeowner in each of the 10 years is capped as follows in the table below, no matter what the value of the home at the time of exit. Note that this is the maximum payoff amount, including the initial investment. If the home value doesn't appreciate rapidly or goes down over time, the payoff amount will be significantly lower than shown in the table below.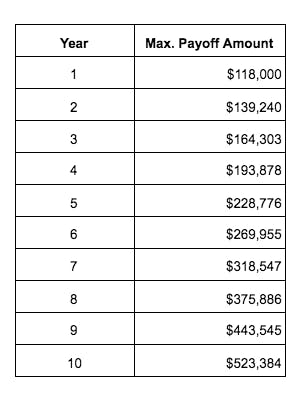 Example 1: Early payoff in 2 years in a rapidly appreciating market
Let's say a homeowner decides to sell their home in 2 years at a value of $1,200,000. This represents strong home appreciation of about 10% a year.
In such a scenario, the payoff would be computed based on the $1,200,000 and the Noah Share would be 15.96%. If Noah didn't offer the effective APR cap, the payoff would be $191,500.  However, since Noah's Home Equity Access includes the cap, the maximum payoff to Noah would be $139,200.  
This means, the homeowner kept an additional $52,260 of equity gains for themselves based on the effective 18% APR cap, as compared to not having a cap in place.
A few  final thoughts:
Noah's effective 18% APR Cap is not an interest rate- it's a way to limit the maximum payoff in any year
Noah's effective 18% APR Cap is meant to protect homeowners in case they choose to exit early in their 10-year term in a rapidly appreciating market
We love helping homeowners access their home equity to achieve their goals. To find out how much you may qualify for and see pay off scenarios, start by getting an estimate.