In 2016, Noah set out to help people build prosperity through homeownership.
We view our customers as true partners: when you do well, we do well. Home Value Investments have offered homeowners unparalleled financial flexibility, allowing them to easily tap into up to $350,000 of their home equity in exchange for a share in the home's future value. And our partnership-based approach means that when your home appreciates we share in the gain, and if it depreciates, we share in the loss. 
2020 was a record-setting year for home appreciation; homeowners across the U.S. gained $26,300 in home equity on average in 2020, according to CoreLogic. In states like California, and Washington, the gains were even higher – $54,500, and $47,200 respectively. 
This is great news for homeowners: equity is a valuable asset, especially when you have the confidence that you can easily access it when you need. But the volatility of the real estate market can also cause uncertainty; it can be difficult to predict whether your home will continue to appreciate over your Investment term, or if it will depreciate. 
Today, we're thrilled to announce the next step in furthering our partnership with our customers: we're now adding a Cap to all Home Value Investments, allowing you to keep even more of your home equity gains should your home rapidly appreciate during your term. With a Capped Investment, your annual buyout amount will be capped at an 18% implied APR to limit the amount you'll pay Noah upon exit. To note, the 18% implied APR is not an interest rate - it is simply the most your payback amount to Noah would increase in any given year. In reality, expect your long term cost of a Noah Investment to be much lower.

Based on the feedback of our homeowner partners, we are also introducing a new 5 year term length, available to homeowners in select markets with a minimum credit score of 720, in a continued effort to find new ways to make tapping into home equity more accessible and affordable. If your home qualifies for our 5 year term, you'll be offered our lowest possible pricing at estimate.noah.co.
These new options can provide monthly cash flow relief for up to 5 or 10 years, with protections that will:
Provide peace of mind, knowing that the amount you'll pay Noah is capped 
Reduce your cost of short term capital, especially if you plan to exit the agreement within the first 2-3 years
Keep even more of your equity if your home rapidly appreciates over your term length
The current seller's market is showing no signs of slowing down, and there's no better time to take advantage of the equity you've recently built. Whether you're preparing to sell and are in need of short term funds for renovations or repairs, or you're looking to stay in your home and use your recent equity gains to pay down debt, our new capped offering will ensure that you'll continue to maximize the returns of your greatest investment: your home.
How do I get a capped Home Value Investment estimate?
Get your estimate the way you normally would at estimate.noah.co.  We'll ask a few questions about your property, your credit score (your credit won't be impacted), and how long you estimate you'll hold the Noah Investment funds.  Providing an estimated timeline will allow us to calculate your best possible terms and provide a recommendation.  Once you receive your estimate, you can customize it by adjusting your home value, funding amount, and estimated timeline before continuing to your application.

Can I model out a few different scenarios before I start my application?
Yes!  Our new estimate provides a recommendation based on a set of data-backed assumptions, then allows you to adjust whatever you need by clicking "customize estimate."  The buyout estimate is our best guess of how much you'll pay to Noah upon exit, or you can click "What happens if my home appreciates faster?" to see additional scenarios.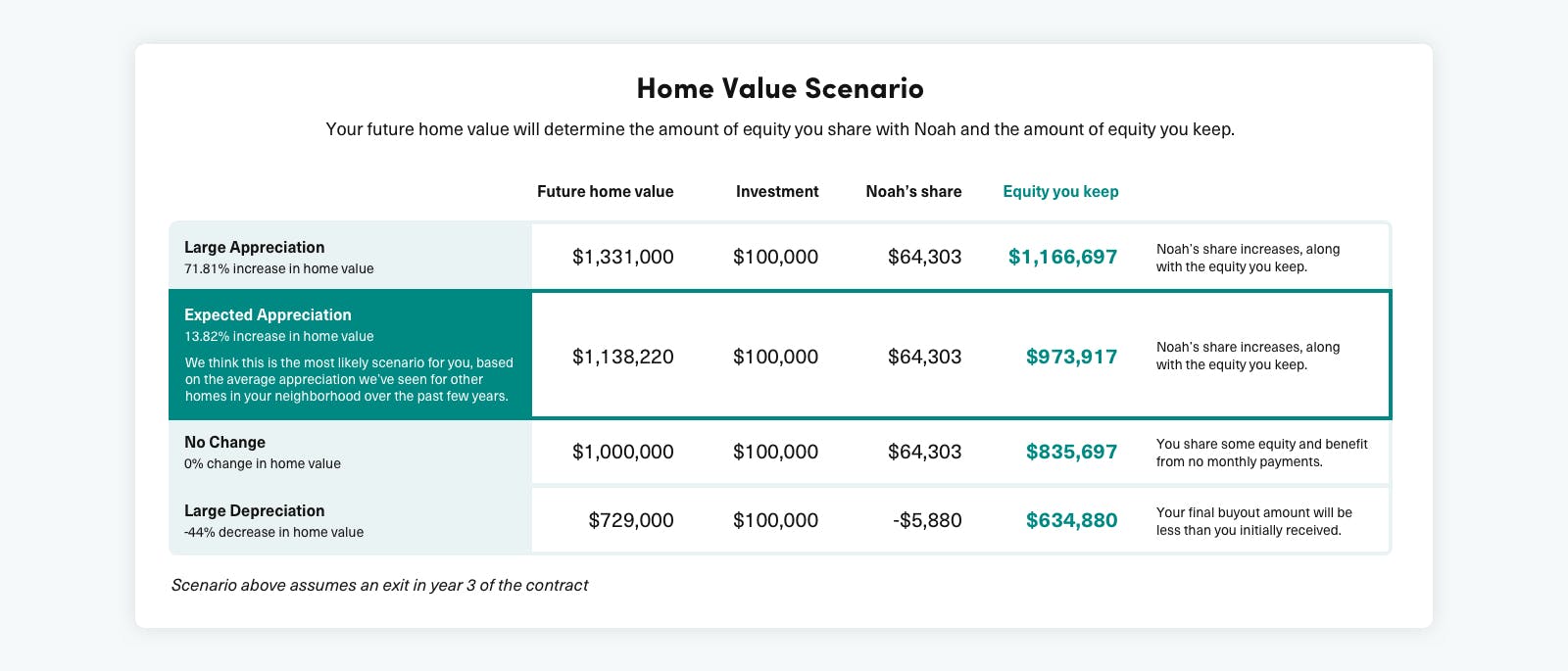 How do I know if I'm eligible for the 5 year term?
If you qualify and select an estimated timeline of 5 years or less at estimate.noah.co, we'll recommend our 5 year capped term length and provide you with an estimate of our lowest possible pricing.  Please note that if you accept our estimate and complete an application, we will pull an official credit report to verify that you meet the eligibility requirements.