Do you know how many times you've strolled into your kitchen today? One study found that homeowners checked the fridge or cupboards an average of 23 times a day, so if you find yourself in the kitchen often, you're not alone.
While you're in there (no, we're not about to ask you to make us a snack), ask yourself whether one of the most high-traffic areas of your home is making you happy. If a temperamental oven or drab paint job bother you every time you walk in, you may be due for a kitchen remodel. Here are some ideas to get you thinking — and a few kitchens we can't get off our mind.
Benefits of Remodeling Your Home
The most important reason to remodel your home is that you live there, and you deserve to enjoy the time you spend at your place. The emotional ROI of spending years in a home that matches your taste is just as important as the asking price whenever you part with your house.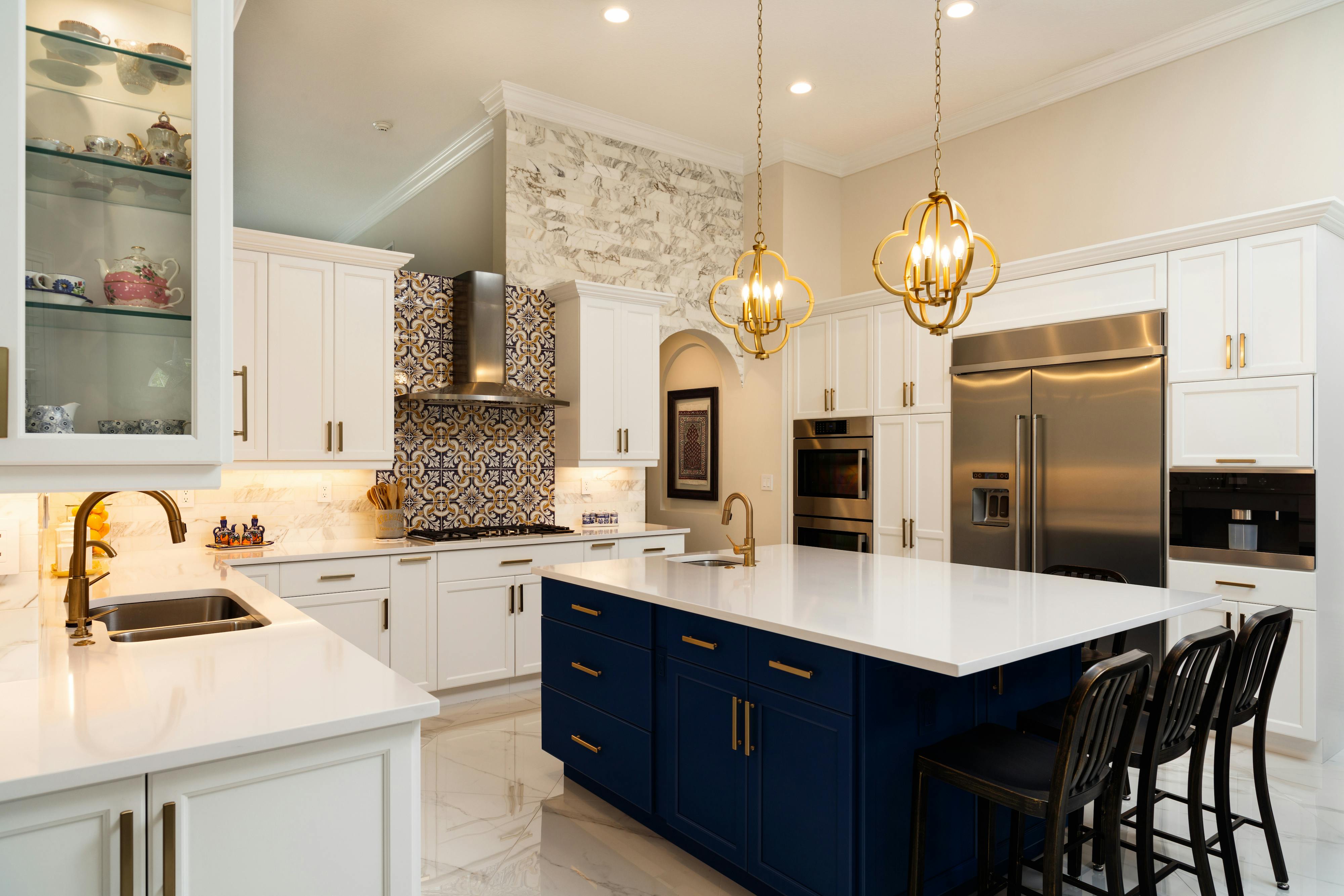 That said, a real estate truism is, "kitchens sell houses." Buyers understand that the kitchen is the heart of the home, an essential part of the daily routine, and a hub for family and friends to connect. A properly scaled and executed kitchen renovation can lead to a substantial return on investment in your home's value.
One additional bright spot is that in most cases, less is more. Minor kitchen remodels tend to result in a higher ROI than a major overhaul with upscale materials. A minor kitchen renovation can net you an 80% ROI. Major renovations may come out somewhere in the 57-63% range, depending how luxurious (and expensive) your taste. The difference in ROI may be due to the fact that some of the most basic fixes, like updating appliances, cabinet fronts, and flooring, go a long way to restore a kitchen's beauty and functionality. Major layout changes or custom touches may come with a high emotional ROI, but ultimately factor in less to potential buyers.
Identify Why You Want to Remodel
Some remodels are purely functional. If your oven is scorching the cupboards because heat is escaping or you have to raise your voice to talk over the noisy hum of the fridge, a remodel can get your kitchen back in working order.
Other common pain points include old flooring (hello, peeling '80s vinyl), broken appliances, or an unorganized layout that means you're constantly bumping into each other. The more points you need to address, the more opportunities you might find to add a stylish touch as well as utility.
On the other hand, some homeowners put form before function when planning home improvements. Appliances may be in working order, but if an ugly kitchen is getting you down, an aesthetic-first overhaul may inject more happiness into this central part of your home.
Types of Kitchen Remodel
Home renovation projects, like homes themselves, can have their own "personality." Here are some familiar types.
The DIY
Sleeves rolled up, tape measure in hand! A DIY approach saves a bundle in worker fees. The downside is you'll miss out on workers' expertise, so scale a project around your learning comfort zone.
If all you want to do is replace a microwave, this is probably the easiest and most cost-effective approach. Homeowners who are handy may have the skills to take on other projects, too, like updating a kitchen backsplash (Hint: The more intricate the pattern, the more important it is to measure and pencil it out before working with the actual tiles!).
If your project involves heavier deconstructing and rebuilding, or rearranging the layout of your kitchen, you may want to hire someone else to save you time, effort, and risk of biting off too much work to fit into a busy life.
The aesthetic
Preparing meals can be a form of creative expression. An aesthetic remodel is about creating a more inspiring kitchen workspace, or a more gracious entertaining space that fits the tone of the rest of the home. Even if appliances work fine, you may feel like you work better in a kitchen that lifts your mood when you walk in.
One perk of an aesthetic remodel is minor kitchen renovations often have a fairly high resale ROI. Fresh paint, stylish flooring, and attractive countertops make the kitchen a fun room to be in (and don't the best parties end up with everyone squeezed into the kitchen, talking and laughing and sharing something delicious?).
The full sweep
A dark, cramped space with a leaking fridge, dead stovetop burner, and ugly floors can drive even the most enthusiastic chef to order takeout. Sometimes the best fix for a failing kitchen is a full gut and a fresh start.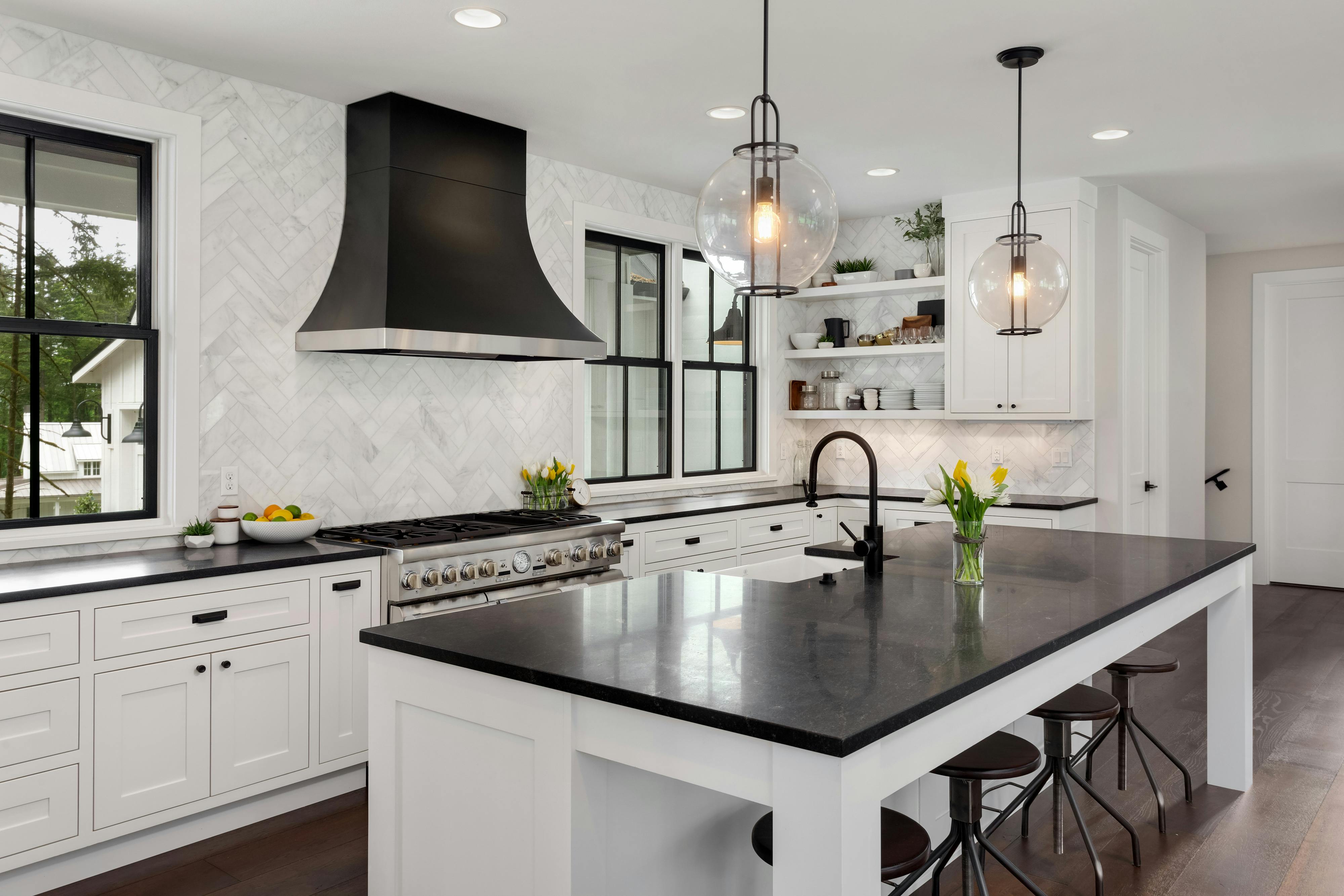 A major kitchen remodel includes new high-end appliances, gutting floors and cabinets, and possibly drawing up plans that are almost unrecognizable from the "before" picture. The good news is you can kick off decades of fresh usefulness and enjoyment. The bad news is you're in for a pricey renovation on a long timetable. Expect months of work between demo day and a freshly functional space. For a rundown kitchen, the results can be worth the wait.
Cost of Kitchen Remodel
Of course, the price of a kitchen remodel can vary widely, depending on the amount of work to do and your approach. Before committing to a project, determine your max budget and get estimates from a few contractors to make sure the work and budget align. 
One way to settle on a max budget is to review your finances and decide where the money should come from. How much will come from savings? If you're going to take out a loan or line of credit, do you have a plan to add monthly payments into your budget? If you're looking for funding options without interest or a monthly repayment requirement, Noah's Home Value Investment agreement can supply funds up front and base your eventual payment on a portion of your home's total value.
Some sources estimate kitchen remodels can range from $4,000 to $60,000 or more, depending on the size and scope of the project. The average cost range is $13,000 to $37,000. New appliances make up about 15% of your budget. Cabinets can eat up nearly 30% of the average remodel.
When you're deciding on a kitchen budget, keep ROI in the back of your mind, too. Chances are that you'll recoup more of the value of a modest budget. A dramatic splurge may bring you joy, and that's great! Just don't talk yourself into overspending for the sake of nudging the value of your home higher – a little can go a long way.
A few ways to cut down remodeling cost are to take the research into your own hands, even if it's not a DIY project. Choose appliances yourself by checking out showrooms. Striking a compromise on materials saves money, too:
Ceramic instead of stone tiles
Pre-made cabinets instead of custom designs
Cultured marble or butcher block counters instead of natural marble or quartz
Get Ready for Renovation
After you finalize a plan, it's time to prepare for demo day! Here's your three-step approach.
Prep your finances
Make sure all paperwork is ready to finalize any loans and update your budget to account for any new monthly bills. If you're funding a kitchen remodel with a Noah Investment, you won't have additional monthly payments to add to the budget. Instead, you might put the money in a separate account so you can draw from it to pay contractors' bills (you can also create your own savings plan on your terms to save toward your eventual payment to Noah up to 10 years from now).
Prep your kitchen
Get your kitchen construction ready with this checklist:
Turn off water, gas, and electricity
Get trash disposal ready
Move appliances you're saving
Empty cabinets
Hang protective materials to shield adjacent rooms
Prep your family
A remodel will change your daily schedule for a while, especially if family members are spending more time than usual at home. You may not have access to your kitchen for an extended amount of time, so you'll need a new rhythm.
Make a plan for meals (microwave, fridge, eating area) in another part of your home
Make a budget for additional takeout meals
Discuss where family members will study, work, or relax if they need quiet spaces
 
A kitchen remodel takes a money and time investment, but the payoff is a room that reflects you and your family, so you can gather together in a space that really feels like home.